Entry 10: Day 31 to 38
Brisbane - Glasshouse Mountains - Lamington NP - Gold Coast - Byron Bay - rolling towards Sydney
Bold words point at a picture on this page
---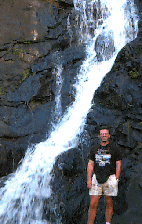 For the first time in three weeks I stayed in a city with more than 1 million people. Brisbane, so I read, was a very sleepy, even rural town before 1980. In the eighties, though, it picked up and put its name on the world's map. Especially through staging the World EXPO 1988 which led to a rapid development and renewal of the city and its surroundings.

In Brisbane I was staying with Johannes' brother, who is a biologist with a hospital here, working on cancer research. Johannes' family is from Freiburg in Germany. He has been on the road since February. First he saw Asia and now he has been in Australia since May and went from Perth to Darwin, down to Alice, where I met him and his girlfriend, and then pretty much the same route I took but just at a different speed because they were using buses instead of flights.

On Monday we strolled through downtown and got to know the inner city of Brisbane which strikes me as very British - but hey, they are still in the Commonwealth after all and the Queen is still their monarch.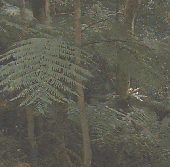 On Tuesday, we went to the Glasshouse Mountains, about 100km north of Brisbane inland. The Mountains are remainders of the volcanic activity several years ago (million that is). It has some interesting little villages and some nice walking tracks. We decide to visit the Kondolilla Falls (see picture). A quick walk takes us there through interesting bits of rainforest. But for the more beautiful rainforest read on.

On Wednesday, I slept in and did some shopping in Brisbane in the afternoon. I finally decided how the next week and a half will look like and where I am going to stop on my way down to Sydney.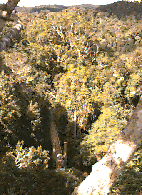 Early Thursday morning I went on the road again leaving Johannes and his family behind. But I will meet up with him and his girlfriend in Sydney in about a week again. From Brisbane I drove to Lamington National Park - a definite must, now that I have been there. Lamington is the remainder of the coastal rainforest and the rainforest all of Australia was covered with. Now only small areas of this rainforest are still intact and not taken down and used. On my way to the O'Reilly's estate which is the family who owns and runs a family guesthouse right on the border of the national park, I drive through Canundra where I booked a hotel for the night. Then 37km into the forest and uphill I get to O'Reilly's. If I would have the money (145$ per night) I would stay in their guesthouse - maybe next time. The $145 include everything: breakfast, lunch, dinner, room, tea, and guided walks - very good value but still a lot of money.

The O'Reillys established a walk in the treetops of the rainforest - a very interesting and breathtaking experience. See if you can find the free hanging bridge in the picture!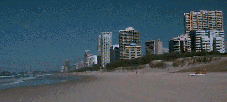 Afterwards I decided to go on a short walk to several waterfalls in the middle of the rainforest. It took me two and half hours. But I couldn't leave without at least having dinner at O'Reilly's. It was a fabulous three course meal with a brilliant dessert buffet for only $25. After dinner I was even allowed to join the night activity which is a movie about a bird filmer in the rainforest -pretty cool. Then I had to drive through the night back to my hotel - didn't I say I don't drive at night - well, it'll be the last time because it was rather scary: no one on the street except for Wallabies (small kangaroos) and other weird animals.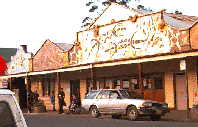 Yesterday, I drove from Canungra to the Gold Coast - the main tourist area of Australia. It's the main part of the east coast, especially for Surfers. That's why a community there decided several decades ago to name their town: "Surfer's Paradise". It really is a very touristy area. Several high-rise hotels and a lot of tourist traps along the beach. After 2 hours I had enough and moved on.

I drove to Nimbin. Nimbin was the site for the "Aquarius festival" in 1973. The Hippies liked it so much that they stayed and the 200 soul community rose to over 10,000 within days. Over the last 23 years Nimbin was an alternative center for Hippies and other alternative lifestyles. I really expected a lot.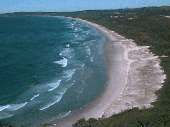 But I was disappointed. Other than dirty streets, dirty people, and no space cookies, I could not find anything special there. Apparently according to an article I read about it, Nimbin really is a dying cultural center because the kids of the Hippies don't like the lifestyle of their parents at all - so they leave and live in the city or somewhere else. Once again proof that a Lifestyle is the product of its times and can not always be carried into another decade.

My next stop was Byron Bay - the most easterly point of mainland Australia. It also has the strongest lighthouse. Byron Bay is interesting but not for longer than one day. After you saw the main drag and the lighthouse you've seen it all.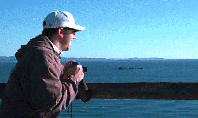 What's important in Byron is the Whale watching. During May and August, humpback whales are migrating north to give birth to their kids after which they migrate back to the Antarctic sea with its more nutritious waters. I stayed up at the lighthouse for over two hours and ... did not see a thing!!! F$@#!!! I hoped to see some whales or dolphins but nothing, not even a stupid fish - nothing. Can you tell that I'm pissed off? I hope so.

Today it's Saturday, July 13. And I want to see some whales!!!!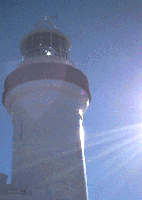 ---
Next Entry
Last Entry
Return to Main Page
Return to Diary Page