Entry 16:Day 54 to 56
San Francisco
Bold words point at a picture on this page
---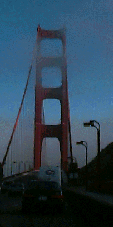 Did you ever wanted to get totally drunk without paying for it? I mean, nothing at all? Well, then go to Napa Valley and tour the wineries there. The only problem is that you have to drink and drive, which I, of course, strongly disapprove of, unless you have a designated driver.

Last Tuesday I did exactly that. My friend Barry and I drove about an hour north of San Francisco and toured the wineries in Sonoma and Napa Valley. We really tasted the wines. We did not, and I repeat "not", get wasted. Even though it took a lot of will not to do it. You can go to any of the wineries, and there are a lot of them, and ask for a several different whites and reds and taste them. You will receive less than half a glass per wine but after 10 wineries even the best drinker will have to give in.

Barry and I went to Sebastiani, Gundlach-Bundschu, Buena Vista, Opus One, Robert Mondavi, Grgich, and V. Sattui. They are probably the top wineries of North California. We did not have to pay for the tasting except at Opus One. At Opus One, which only makes one red wine, we would have had to pay to taste. Now this already is a frightening concept - they want you to buy the wine and you have to pay to taste it. But it gets even better: you pay $12 (!!!) for a glass of wine and you can't even keep the glass. Now you can guess how much the whole bottle costs. $50?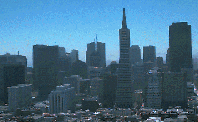 Guess again. It costs exactly $80, that's eight-zero, for one 750ml of a freaking bottle of wine. That's gotta be one f$#@ing good wine. But then again I would not want to drink it because wine can always get better when it ages. So if you buy one, you are in a Prisoner's Dilemma, or better in a Winebuyer's Dilemma. Regardless of this winery, we tasted some awesome Chardonnay and Cabernet Sauvignon. Even though I have to say that I was not particularly impressed with the reds in Napa. The whites seem to be much better. But then again, this comes from a guy who drinks wine to not really for the flavor - so much for my wine knowledge.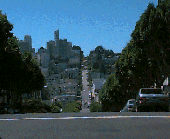 Wednesday I spent sight seeing in San Francisco. Barry, who sacrificed himself to show me around, and I went up to Coit Tower, this phallic symbol of San Fran - what an appropriate landmark for this city (not that there's anything wrong with that). Later we strolled around Union Square and Market Street and just enjoyed the atmosphere of the city.

Afterwards I went back home and started to pack - a very unenjoyful event. Not because I'm leaving but because I'm running out of space - too many gifts and too much stuff for myself.

My last evening on my trip, I got to spend with an old friend of mine. Gary, who works for HP in Roseville, CA, came all the way from there (two hour car drive) to see me. We had dinner (awesome sushi) and then went to a microbrewery, Gordon Biersch, where we hooked up with, no not women, but several other friends of mine which I haven't seen in a while.

Today it's Thursday, August 1, 1996. And I have to go to prison.




---
Next Entry
Last Entry
Return to Main Page
Return to Diary Page