Entry 4:Day 11 to 13
Darwin and Kakadu National Park
Bold words point at a picture on this page
---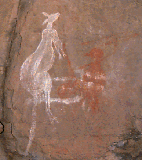 Finally it happened: I crossed the equator and entered a country that is somewhat mystical to all Europeans and North Americans alike: Australia. It is so far away and supposedly has so many natural wonders, that whoever was there can only paint an uncomplete picture. And whoever has not been there yet can only try to imagine.

I arrived at 5:30 am in Darwin. The first impression was: friendly immigration personnel and fruit bins. Fruit bins? Yeah, unfortunately Oz (short for Australia) is suffering from major problems with fruit flys etc. Thus they have to prevent any import of fruits or vegetables.

My first stop was the information counter. Knowing that I would stay in the YHA (Youth Hostel) I wanted to know what I could do during the next two and half days. Immediately I was told that a two or three day outdoors trip to Kakadu National Park (name comes from the Aboriginal Gagadju and has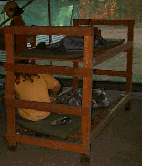 nothing to do with the German name for the Kakadoo bird) is the most memorable thing to do. But unfortunately I only had one full day because it was already six in the morning. Or....? Hey, I am quick I can hop on a tour today. A guy at the bus counter even told me: "hey you are the customer - let them pick you up from here!". That's how most of the companies should think like.

I decided to get a bus downtown, leave my luggage at the hostel, and jump on board for a two day trip on a 4WD. I arrived at the hostel at 6:15 am. The tour had one more seat and left at 6:30 am. Without any sleep during the last night, this should become an interesting experience.

I will not bore you with details of what we did, I will only recount what we saw and if necessary explain a little bit. One thing though is absolutely essential to mention: I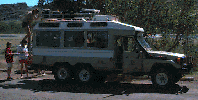 not only had a fabulous time but also probably the best introduction to a country ever. If you should ever end up in Darwin go on the three day tour. Two days were cool but by far not enough time to see everything.

We, that's a group of 12 people in their twenties plus a tour guide, drove by magnetic termite hills (about six to eight (!) meters high). The most amazing part was a cruise through the Adelaide River where we saw wild crocodiles jumping for the bait that our tour guide put out for them - one word sums it pretty much up: breathtaking.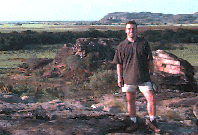 Four meter long crocs, absolutely deadly, approaching the boat and all of a sudden jumping about one meter and a half out of the boat. We were not allowed to hold anything out of the boat because the croc would go for it. Crocs eat anything, I repeat anything!!! One time when the guide prepared a bait for a croc, a huge eagle came by and snapped the bait - unbelievable. I hope that my words can mirror my excitement a little bit. It was fantastic.

After that we saw some cool Aboriginal Artsites with huge paintings which are up to 6,000 years old. We strolled along a lookout where a scene from Crocodile Dundee part 2 was shot. All these things made me forget that I had not slept in 30 some hours. The first day ended with a spectacular sunset at Yellow Waters and a Campfire and BBQ dinner. We stayed and slept at a fairly comfortable but rather cold (no walls, just fly screens) camp site.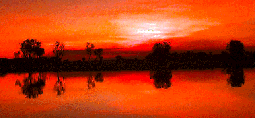 On the second day we explored the Barramundi Gorge. The waterfall can be seen from the top and from down below and you can swim in the water and get a great shower underneath the fall. The final site were some more stunning artifacts from the early age of Aboriginals.

Today it's Wednesday, June 19. And I fell in love with Australia!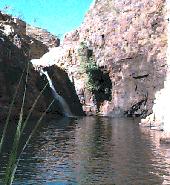 ---
Next Entry
Last Entry
Return to Main Page
Return to Diary Page