Entry 5:Day 14 to 16
Alice Springs - Ayers Rock (Uluru)
Bold words point at a picture on this page
---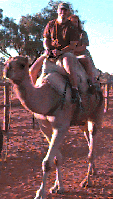 And the journey gets even better. Not only is it a lot of fun staying in youth hostels because it is much cheaper ($14 for a night) but you get to know so many interesting and funny people. Here in Alice Springs, in the middle of nowhere literally, I'm staying in the Melanka Lodge which is cheap, clean, and has an enclosed bar and club where the guests can meet, play pool, watch the Euro96 on a big screen, or get hammered.

Alice Springs has 25,000 people. It is much more lively than Darwin which has 50,000. The reason is Tourism. Tourism that is brought here by Uluru - the gigantic monolith, that the white explorers called Ayers Rock. That's also why I am here.

I caught another trip. This time three days to Uluru, Kata Tjuta (the Olgas), and King's Canyon. Our group (this time 22 people) rode on Camels, saw the huge Olgas, and had champagne viewing the sunset on Ayers Rock. We stayed at a base camp near Uluru where we had a BBQ and slept outside in swags - large and warm sleeping bags.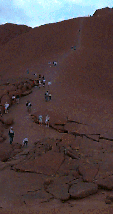 On the second day, we woke up at 5 am. Then Gavin drove us to Ayers Rock. We started to climb the Rock when it was still dark. By the time (45 minute climb) we arrived at the top the sun started to rise - one aweinspiring, incredible view. After that we visited the Aboriginal visitors center. Uluru was returned to the Aboriginals during the Eighties and is run by them ever since. Uluru has a religious meaning to the Aboriginals. Some places at the Rock we were not even allowed to photograph. By the way, if you photograph an Aboriginal, you have burn the photo when you die, because they believe that the photo includes some of their spirit and thus the photo has to die too.

On the second night we also had a barbeque. But this time Gavin had a special treat for us - the tail of a kangoroo. He prepared it in truly Aboriginal fashion - except for the tinfoil he used - by burying it in the coal in the fire. After it was done we all took a bite. It tastes a bit like lamb (which will send shivers down my Mom's spine). It is very fat and muscular - a kangoroo can stand on its tail alone!!! A very interesting experience to say the least.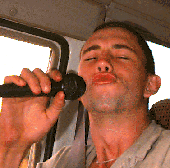 During the second night it started to rain and we had to flee into the tents. Some of us even had to dry their clothes in the morning because they forgot them. On the last day we saw even more rocks - that does not only sound sarcastic, it is! King's Cayon would be great if it would be done on the first day but on the third day it just seems like a pile of rubble after Ayers and the Olgas. The tour was finished by a tour given by two Aboriginal brothers. But as their culture is based on stories told by and to Aboriginals only we did not learn anything more than we learned from our tour guide.You can only hear those stories if you are an initiated (roughly 21 years old) Aboriginal yourself - and last time I looked that was not true for myself.

Anyway, the tour was absolutely incredible and worth while. A must for every visitor to the Red Centre of Australia.

Today it's Sunday. And I already marked my calender for next years holiday - in Australia.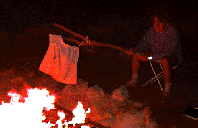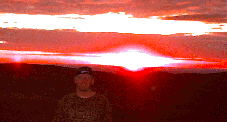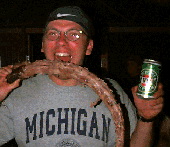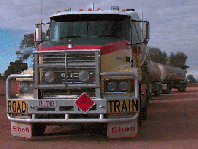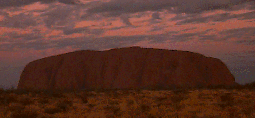 ---
Next Entry
Last Entry
Return to Main Page
Return to Diary Page