Entry 12:Day 39 to 45
Sydney - Blue Mountains
Bold words point at a picture on this page
---

Wow, the last week went by in a second. I spent five action packed days in Sydney - in my opinion one of the most interesting and most beautifully situated cities I have ever been to. In those five days I saw a lot but I also left a lot behind unseen - now I have a good reason to come back.

In an attempt to try something new I will tell everything in reverse, i.e. I will start with my last day and work my way back to last Monday. It's not only because I want to try something new but because I have an easier time remembering recent events - damn my long-term memory. It might even be that this way of story telling sucks - come to think of it, it probably does, otherwise wiser men would have tried and used it before. But, what the hell, he who dares wins (and loses his readers....). While we are at semi funny lines, here's a good one I read on a T-shirt: "He who dies with the most toys ... still dies"!

About five hours ago I climbed aboard Quantans (which stands for Queensland and Northern Territory Aerial Service - Australian's airline) flight 003 to Honolulu, Hawaii. That was Sunday morning at 9:30 am. I will arrive in Honolulu at 10:30pm, Saturday night - having to live thru the last 24 hours again - a little hard to grasp, huh? (Feels like "Groundhog Day" to me, other people say it's the dateline in the Pacific Ocean, but hey what do they know...?)

Yesterday night, the hustling and bustling Saturday night in Sydney, I went to a concert of a band named "Bean" which I heard of the same morning at Paddington Market where they were playing on the street advertising their gig at night. It's an English band, living in Sydney, consisting of a guitar, a very small drum set (you thought I was going write drummer, didn't you?), and a trombone. Very unusual setup but pretty good. By the way, Paddington market is a huge market for Sydney's artist to promote their clothes, jewelry, and other stuff.

Before the concert, though, I treated myself to a good dinner at the "Bayswater Brassiere": very recommendable. I had Oysters and a Steak - very Australian (but if I think about it I once had Oysters and Steak in New York.....never mind)

All of Saturday I spent shopping. I was trying to find the last minute presents and memorabilias that I wanted to buy and bring home as a remembrance of my excellent adventures (without Bill and Ted, though - if you have a problem with my humor: try being funny, it's not always easy!).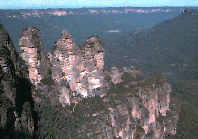 Friday I spent with a group of 22 people exploring the nearby Blue Mountains, west of Sydney. There are some great walks, views, waterfalls, and a very awesome scenic railway from a walk below the cliff's rim. The railway dates back to the time when the Blue Mountains where exploited for their coal. But these days are long gone (roughly half a century) and now the railway that brought the workers to the entrance of the coal mines is used to haul tourist's asses back to the parking lot - just in case they can't make it back by foot. At one of the scenic views I saw a complete rainbow, so strong that it almost looks unreal as you can see from the photo. If you look closely you can see a second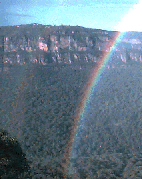 rainbow left to the big one - a very exciting sight. The Blue Mountains are roughly 100km west of Sydney and definitely worth checking out if you are in the area. It is best explored with one of the tours offered by hostels in Sydney because they show you areas that normal tourists can't go to. So it happened that we came within 4 meters of a Kangaroo Mob (that's what a herd of these hoppers are called - but not to be confused with "the Mob" - that's still the Mafia).

Thursday was devoted to the Maritime Museum and Darling Harbor. The Maritime Museum is a hands-on experience: you can tour a Russian submarine and an Australian destroyer, see the world's fastest speed boat, and an interactive exhibition about the Titanic. It's definitely worth going to - a must for everyone, especially if you have kids (that's why I enjoyed myself so much - because I'm still a little kid, ok large kid, but still a kid). Darling Harbor is a part of Sydney's port. It's an entertainment / museum / hotel / dining center. It was revived just recently and now is one of the most vivid parts of the city. For the Olympic games in 2000, some events will be held there - I just don't know which!

Sydney 2000 - while the centennial games in Atlanta just started, Sydney is already getting ready for their big event in four years. You can buy hats, T-shirts, and every possible memorabilia you can think of. The news are full of the event, especially because they try to learn from potential mistakes in Atlanta - very professional attitude. I am sure that in four years we will be the witnesses of what will be the greatest spectacle in Olympic history (before the next one four years later).

On Wednesday I got up early to pick up my German friends from the bus station. They just arrived from Brisbane and now are staying in Sydney until coming Monday. We met them because we thought we are going to the Blue Mountains together. But they had to find a place and also did not want to go with a tour. So I spent the first half of the day checking out the inner city, the monorail, and did some shopping. Finally I went on a harbor cruise for 2 hours - that's what made me decide that Sydney has the one of the best locations. The harbor is not only huge but also has several bays with beaches and small suburbs with their own little culture.

In the afternoon I met up with Johannes and Nina, my German connection, and we strolled through the Rocks, the birthplace of Sydney. It is where the first convicts where brought to and started building houses in 1780. In the 1950s the government wanted to get rid of this part of town and build a business district. But the Sydneysiders protested, saying that the cradle of Sydney should be kept. Finally convinced, the government revived the district and renovated some of the old houses. Today it is a very touristy but charming quarter with lots of shops, old houses, and bars.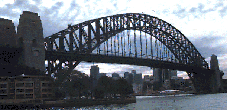 Right next to the Rocks stands the world famous Harbor Bridge. The longest single span bridge in the world - a masterpiece of engineering. We went up one of the massive pillars, which are just there for aesthetics - the bridge holds itself just through its iron construction and the forces of the huge arch.

At night I went to the finals of the Australian piano competition in the Sydney Opera. An evening full of Mozart - a nice reminder of how important Austria's most important export article is even down under!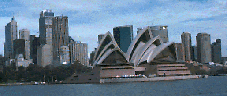 That brings me back to my first day in Sydney, Tuesday. On this day I went to see the Sydney Opera, which actually should be called Sydney entertainment complex. The famous Opera, which you undoubtedly have seen before, looks....well, what does it look like: an opening oyster, a sailing ship, or, what the architect intended it to look like: a peeling orange - you decide for yourself. I took a tour of this architectural showpiece. The story of this building is very interesting: Sydney needed an arts center. So the government started an architectural contest. A Danish architect won with the very modern look. That was in 1954. The project was intended to cost $7 million and take 4 years. 15 years and $102 million later, in 1973 (it was started in 1958) the Opera was opened by Queen Elizabeth II. During the construction the Danish architect quit because of political problems - the politician, like so very often, interfered too much. He never came back to see his finished work, which was completed by a team of young Australian architects. But even before he quit, he had to change the design slightly because the way he envisioned it, it was technically impossible to build the structure of the Opera, at least at this point in time. Hannes, how's that for a good architectural story? I have something special for you about the Opera house, but more about that when I'm home.

Finally, I arrived in Sydney Monday night after getting lost several times in the already dark (around 6pm) city.

Well, it worked. I was able to tell you about last week in reverse - even though I have to admit it wasn't very exciting - that's probably why no one before used this style. Anyway, to sum up my Australian experience: AWESOME!!!!! I have never been to a more relaxed, laid-back, cool country before. In my head the States are struggling to stay ahead of Australia as my favorite country (after Austria, of course: "I frog di: Is des unser Land?"). As mentioned in another entry, I am already planning to come back as soon as possible - whatever that works out to be.

"You know it's the little differences. They have the same shit in Australia as we have here in Europe but it's the little differences." "Example" "More people wear hats! They wear them night and day. I've seen 'em doing it. They never take it off" (taken from "Pulp fiction" and slightly altered)

Today, it's Sunday, July 21. And I will live thru this day twice - once in the air, once in Honolulu, Hawaii - see you on the other side of the day!



---
Next Entry
Last Entry
Return to Main Page
Return to Diary Page