Entry 13:Day 45 to 48
Hawaii - Oahu
Bold words point at a picture on this page
---

Aloha! Guess where I am? Correct: Honolulu on the lovely island of Oahu, Hawaii in the North Pacific. What can I say? Living through one day twice was not nearly as exciting as it was depicted in "Groundhog Day" - maybe I expected too much.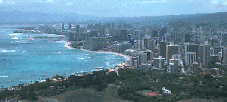 Anyway, I spent the last four days on the absolutely scenic island "Oahu", one of the big four islands of Hawaii. The first day I drove to the southeast side where I visited and climbed a crater (Diamond Head - because the first Americans thought they found diamonds in the basalt) from where you have a great view of Honolulu and Waikiki.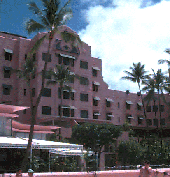 Waikiki is a very touristy area. Lots of hotels (actually I think only hotels) and lots of German tourists - not a pretty sight. Even though I have to admit that the beach is gorgeous.

From Diamond Head I drove to Koko Head, another dormant crater and on to the east side of the island, going by Magnum's house - I'm not really sure if it was the house but it sure sort of looked like it and the map said it was there. When you drive on this coastal road you come by holes in the cooled down lava of the volcanoes where water is spewing out and craters (Hanauma Bay) that are now beaches because their side has been washed away by the sea and let the water in - very beautiful!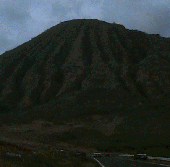 Then on to Kaneho which is a small village on the other side of the mountains. You can drive through those mountains, which where totally clouded in, and get back to Honolulu. That's what I did. Unfortunately, I seemed to have caught Hawaii in the worst four days of the month. The mountains were always in clouds and it rained a lot. It was not very sunny which I thought was good when you are sight seeing. Despite this fact I still was sunburnt on my last day.

Anyway, on Monday, I circled the island by car. Driving up the east side and through the middle. The are some enormous beaches and a supposedly very impressive waterfall called Sacred Fall - but it was closed due to Flash Floods (damn that rain). I was hoping to see some major surfing action on the north shore but nothing. Until I learned that the huge waves are only during the winter. Slightly disappointed I visited the Dole plantation.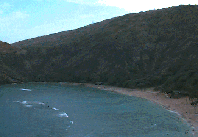 This has nothing to do with the Republican's presidential candidates gardening. It is simply the pineapple farm of the Dole company. It is huge! And the pineapples you can buy there are fresh and very tasty and you learn that there are more than just the one pineapple you know from the store but the one we eat is the one the grow there. The other ones are usually found in tropical areas like Brazil or such (if I recall correctly, which I'm not sure about, but you know about my long-term memory already).

Finally I visited Pearl Harbor and the memorial of the USS Arizona which sunk with 1,200 people on board on the day of the Japanese invasion. Very sad story but that's what war brings you.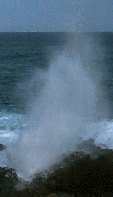 Before I get to emotional, let's go on. Tuesday I toured Waikiki and the historic part of Honolulu - a major endeavor especially if you think Honolulu is around the corner from Waikiki when in fact it's 7km away - needless to say I walked very far and returned very tired.

Yesterday I went to the Kodak Hula Show which has been a tourist attraction since 1937!!! And still has an original member of the cast from 1938. It is definitely worth seeing. Especially because you can make great photos and learn how to Hula dance. (for Franz: I still can't quite get a hang of the music - it's too schmaltzy!!). Then I just laid on the beach and relaxed and: tatataaa .... surfed. Yes, I did it. I surfed. It was very tiring and I did not do too well (especially because I was always afraid I would surf to far in and then would have to swim far out again) but it was fun and I definitely want to do it again.

Today, it's Thursday, July 25. And I'm in Los Angeles fulfilling one of my dreams: driving up Highway No. 1 to San Francisco.


---
Next Entry
Last Entry
Return to Main Page
Return to Diary Page